Pro AV Catalog
Manufacturers
PRODUCT CATEGORIES
Matching Keywords
Model Numbers
367 Columbia Memorial Pkwy
Kemah, TX 77565
United States

Computer Comforts, Inc.
Computer Comforts, Inc.[CCI] designs & manufactures furniture for a wide variety of computer environments. We specialize in Student Tables and Instructor Workstations (Lecterns/Podiums) for the electronic classroom. Lecterns come in a variety of sizes, and can be customized to accommodate projects. Many of our Instructor solutions are "wheelchair friendly" and include 19" rackmount capability.
Model: Hide-Away LCD
This Student Computer Table is designed specifically for a dual-purpose environment, the patented "Hide-Away" computer table allows you to quickly convert a computer lab into a general purpose classro
Featured Product
The University of North Texas contacted Computer Comforts when it was time for a furniture upgrade on their Denton, Texas campus. Creating functional group study rooms was a top priority for their College of Engineering. In addition, they were also looking for power charging solutions for student lounge areas.
Although CCI is primarily known for our classroom and computer lab furniture, we also offer a wide variety of specialty furniture for unique niche applications. After 30+ years of designing tables for the education market, we've seen it all.
What UNT is calling a group study room, many colleges refer to as a huddle room. These are usually small spaces located in a library or Learning Resource Center. Regardless of what you call them, these private rooms are for small groups (4-6) to meet and collaborate on team projects. CCI designed the Collaborative Bullet Table for this specific function. The table pictured below measures 72"W x 48"D. As you can see, this small footprint will comfortably seat 6 students (about $1365 with power).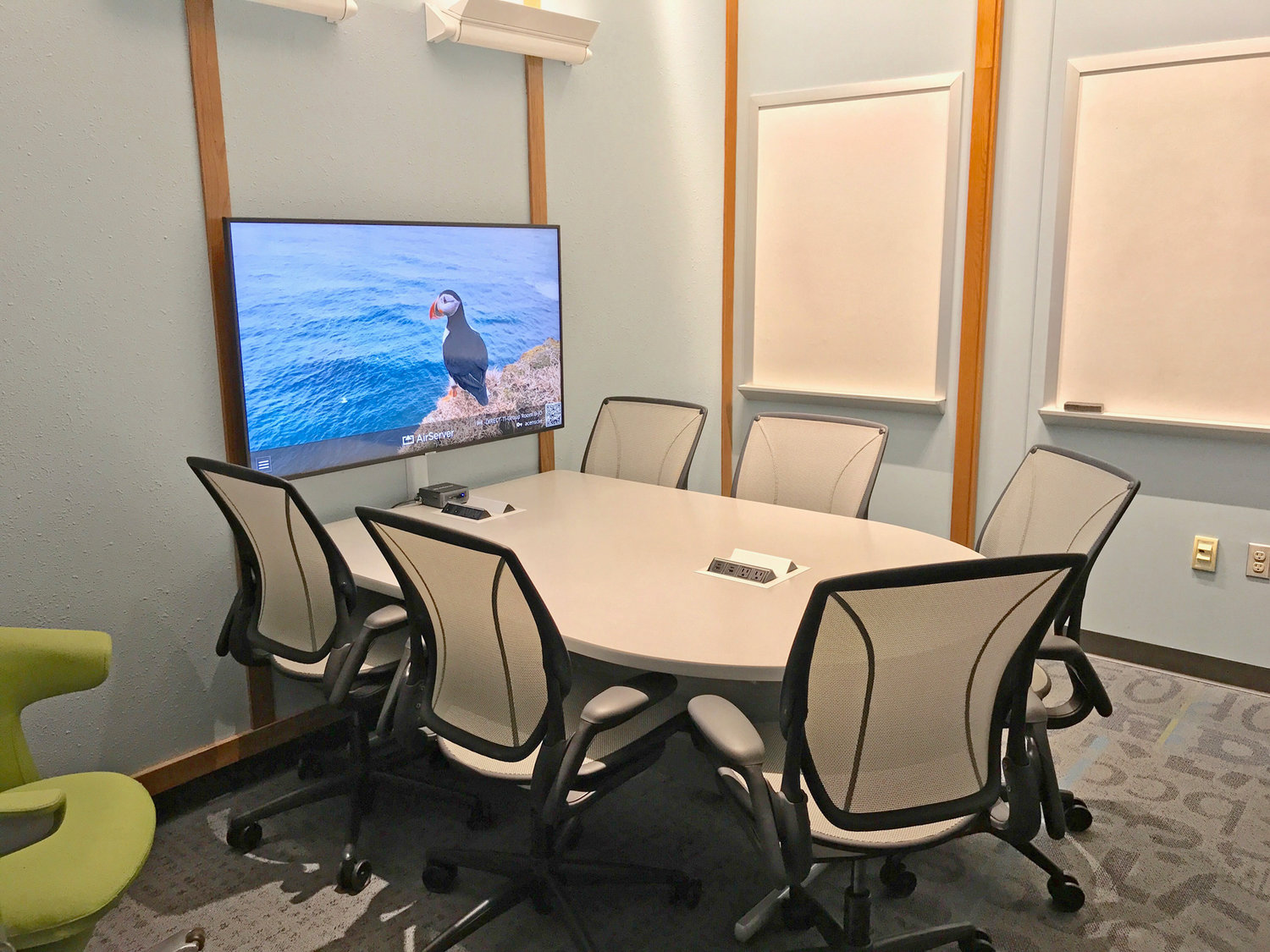 Tabletop can be customized to accommodate power/data or switching systems (Extron, Crestron, etc.). This table includes an electronics bay with a hinged door below, which is a great place to mount hardware (CPU, switch, modem). This bay is also nice for cable management. We often use the same table design in large open active learning labs.
UNT was also looking for a power charging solution to use in some of their student lounge areas. CCI's PowerBar was a good fit! We designed this unit to be standing height with surface mounted power plugs for mobile devices and laptops. Backpack hooks and foot bar are standard features (about $575 with power).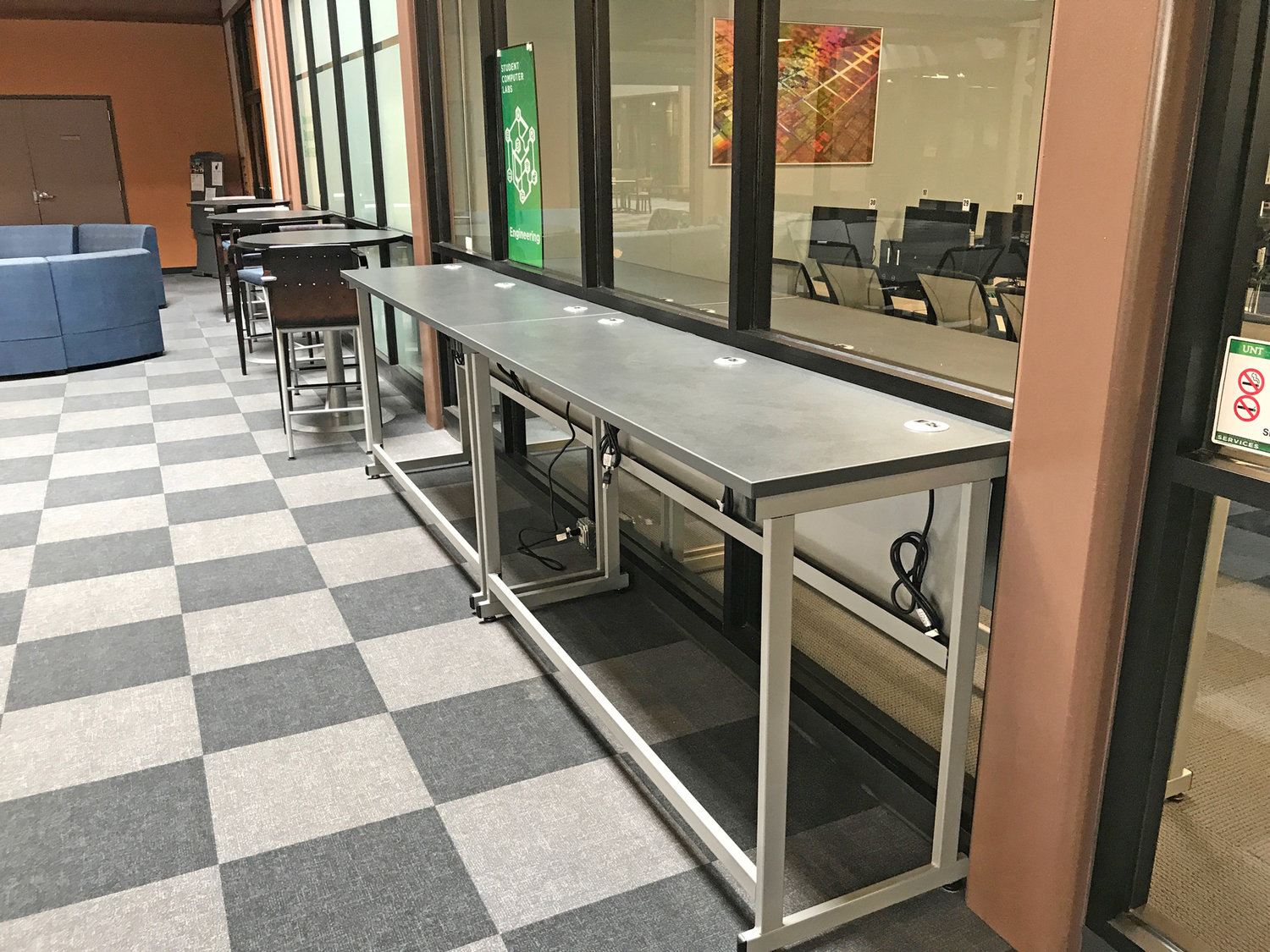 Check out our blog to view many new college installations.
You must be logged in to add more than four items to your comparison list.
Register today!
With a free My-iQ account, you'll be able to keep track of the latest updates and event notifications from your favorite AV manufacturers, manage your own projects and discover new pro-AV products.
Thank you!
Someone will be in touch with you shortly.
Contact Level 3 Audiovisual
Level 3 Audiovisual
955 E. Javelina Ave
Suite B106
Mesa, AZ 85204
USA
480-892-1071
www.level3av.com
Request more information from a dealer near you
Request more information from a dealer near you